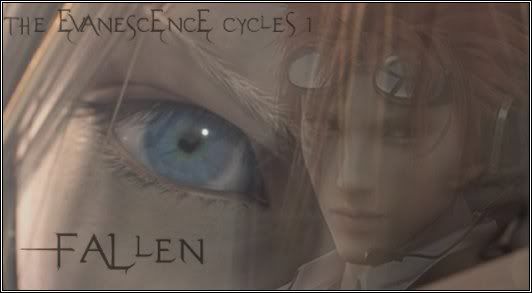 This fic is a series of stand-alone snapshots, written to compliment
Reno's Story
. For every scene Reno has with Cloud in that arc, I have written, or expanded, the same scene from Cloud's VP. These are snapshots, written more as an exercise, and designed to be read in concert with
Reno's Story
.
This is not a run-on story, and it will not make sense on its own, unlike Raith's that could almost stand alone, except I didn't want it to. In other words, stuff that happens to Cloud while Reno is not literally around will be alluded to (usually in title or the lyric), but not written. Play the game if you need to know that stuff.
These were first written in... uh... oh. A long time ago, so there have been (or will be) some serious rewrites, not least due to farking Raith taking over the story for a bit there.
Don't read these first if you intend to read Reno's Story and don't want to spoil it for yourself!
Anyway, expect walk-ons by the other FFVII characters, of course, particularly Reno, for obvious reasons. I have not taken into account Crisis Core, much, for the early stuff. I am aware of the events but where I'm not sure, I go for the FFVII/BC/LO versions.
I originally had three Evanescence Cycle stories, this one, and one for Vincent and Yuffie [which will be posted if I ever decide it's worth editing], plus some pure smut for a third set of chars (Elena, Tseng and Rufus), which I have now nixed completely, cos it's kinda awful and editing won't do a damned thing for it. Although I haven't nixed the allusions to them within Reno's Story. The first one is already there (Ch 16/17), if you're observant. And it's not Sherin.


I thought that, given that both the boys (Cloud and Vinnie) tend to swing broody, the Ev songs were appropriate. And then, I figured I'd better do one for Evanescence's live album as well... but two of the three songs (Breathe No More and Farther Away) have now been earmarked for Reno's soundtrack, so I can't see any rewrite happening. Also, i really don't have a lot of interest in these three as characters. They're pretty straightforward. That's probably why the original version sucked so badly (and no, that is not a pun
).
And most of Ev's other unpublished stuff ended up being on the Reno s/t so it worked out well.
The usual legal disclaimers apply: Cloud Strife & co and Final Fantasy VII, Final Fantasy VII: Advent Children, Final Fantasy VII: Before Crisis, Final Fantasy VII: Last Order and Final Fantasy VII: Dirge of Cerberus are the property of Square Enix.
The lyrics quoted from the Evanescence songs are the property of their respective copyright holders. Their official website is here.

The first scene Reno meets up with Cloud will be at Nibelheim, so you'll see Cloud's VP of that, then.


Note: Because they're exercises, done for my own silly benefit a long time ago, not really a full story, this thread is not open for comments, for now. If you feel strongly enough about something written you can drop a note in Reno's thread.

One ~ Whisper
Two ~ Taking Over
Three
Four
Five
Six
Seven
Eight
Nine
Ten
Eleven