This story was originally posted
here
.
Hey campers.
This is the immediate continuation of this story, here:
There will be no backstory "catchup" summary here, so if you haven't read through that yet, this story will make no sense at all (hehe, if it does anyway). So, I strongly suggest you read ACTF before reading this one.
Erhm, yes. It's a trilogy. It's a fantasy thang, must keep to conventions. It's a rule.


This one's a bit different: Book 1 was told by Isy in retrospect and with hindsight. Now, she's telling her story as it is happening, so we discover stuff as she does. So, it may not all seem to add up until the very end... of Book III
At least, I hope it does. The girl's even starting to confuse me. And I've been taking notes. Hard time, peeps, hard times. Poor thing.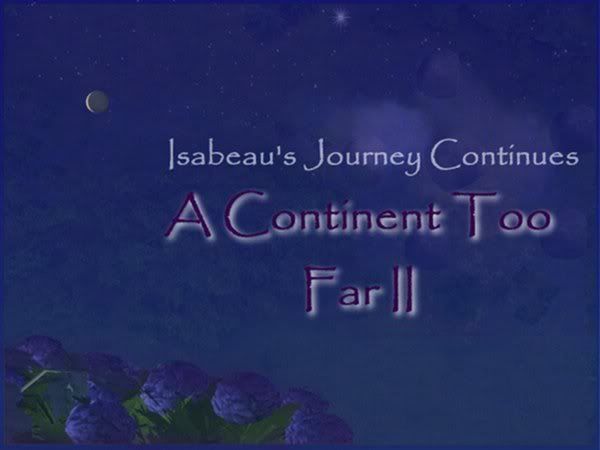 Chapter One
Chapter Two
Chapter Three
Chapter Four
Chapter Five
Chapter Six
Chapter Seven
Chapter Eight
Chapter Nine
Chapter Ten
Chapter Eleven
Chapter Twelve
Chapter Thirteen
Chapter Fourteen
Chapter Fifteen
Chapter Sixteen
Chapter Seventeen
Chapter Eighteen
Chapter Nineteen
Chapter Twenty
The DVD Extras
Map

A Continent Too Far III
is
here