This story was originally posted at SS2.
Hey again, and welcome to the next installment of my scribblings.
If you're new to this story, then this is the immediate continuation of these:
A Continent Too Far and A Continent Too Far II
There'll be no "catchup" summary first, so if you haven't read through those yet, this part will make no sense at all. Erhm, less sense than it doesn't. Does. Jambalaya (Sorry, random Scrubs reference there). Anyhooo, I strongly suggest you read A Continent Too Far and A Continent Too Far II before reading this one.
The lot I've used for Lindisfarne is actually the brilliant "Old Sector Docks", by V1ND1CARE, a part of the Dark Set Theme at MTS2. I left it virtually untouched, only adding a few bits and bobs. In fact, all of the sets I haven't built myself have been, thus far, by V1ND1CARE. Genius, I tell you. Pure genius.
I also want to say "Thankyou" to everyone who has commented, recommended, or encouraged me to continue with this. Without you wonderful readers, there's no point writing.
So, erhm, you guys have no one but yourselves to blame that it's still going. :p
This, is of course, the final installation of the ACTF trilogy. I hope you enjoy it. Feel free to drop a comment on the thread, especially if you've been lurking for a while. I love comments. Even if you hate the story, I don't mind.
~ Beth
~*~*~*~*~*~*~*~*~*~*~*~*~
Map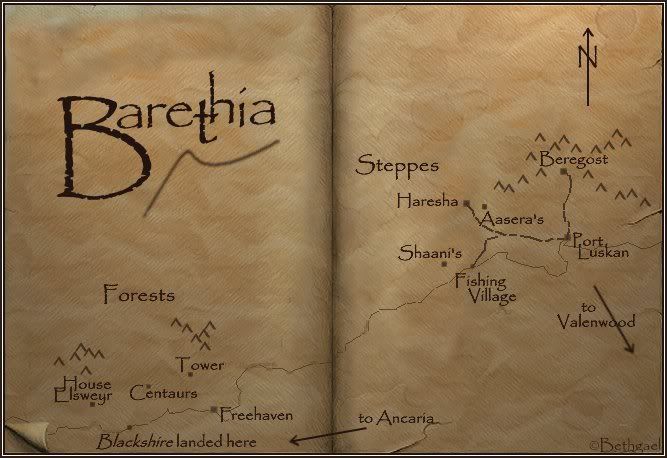 ~*~*~*~*~*~*~*~*~*~*~*~*~
Chapter One
Chapter Two
Chapter Three
Chapter Four
Chapter Five
Chapter Six
Chapter Seven
Chapter Eight
Chapter Nine
Chapter Ten
Chapter Eleven
Chapter Twelve
Chapter Thirteen
Chapter Fourteen
Chapter Fifteen
Chapter Sixteen
Chapter Seventeen
Chapter Eighteen
Chapter Nineteen
Chapter Twenty
The Special DVD Extras
:
Statistics
The List of Homages
Writer's Notes
On Markas
Outtakes N Stuff
The Prequel is
here.