Okay. The first chapter of this has been sitting on my hard drive for so long I'm sick of looking at it, so at the risk of jumping the gun...
Royght.
For anyone who isn't familiar with the Isabeau Valenwood stories, this is the Prequel to the "A Continent Too Far" trilogy I started in December 2006. Silly me, I wondered aloud somewhere in the ACTF2 thread at SS2 if anyone'd be interested in a story involving Isabeau's parents, and apparently a couple of people were. Damn them.
Better, blame them
If you haven't read the ACTF trilogy, and want to, I suggest you read it first. Two reasons: Even though the VP characters are Isy's family, and about her parents, it is still a part of Isy's story history, so if you don't have a familiarity with her, and Markas, and Lukus, some of it won't make any sense, and engaging with the story is likely to be more difficult.
The other reason is: A prequel is really a sequel, set before the trilogy in time only, but building on what's already known, story-wise, so reading in "time" order'll spoil the story for you. There's enough backstory info in this story to have you knowing the ending of the entire trilogy. There's no fun in that for you.
So, if you haven't read them already, the first story is here:
A Continent Too Far I
For current readers, I'm hoping that this story will add to your understanding of where Isy came from. And, maybe mine. *shrugs*
And more: it should tie up a couple of the "loose ends" that were dangling after ACTF ends, ones that can't be tied up in that story by virtue of the nature of the ending of that trilogy. No, I'm not saying anything else. It'll spoil the surprise.
Now, I am going to do sappy, so bear with me. Or, you know, skip to the chapter list; up to you.
Time for me to thank all of the people who have read, rated, kudo'd and commented on Isy's stories, pm'd or chanted at me so far, on both her threads or on the other stories I have written (including, I should add, over at the Reno site). I cannot thank you all enough. I really can't. Writers are, by their very nature, insecure needy wee things, no matter how confident or mature we may be in other areas, and I am not the exception that proves the rule. Fact is, all jokes aside, my ego is actually quite small and needs regular feeding. It sounds strange, I know, to say that I don't write for props, but without them it is difficult, sometimes, to keep writing. After all, a story is only as valuable as its readers. So, thankyou, so very much.
Some of you have been particularly vocal. I won't mention you by name because I'm bound to forget someone, but you know who you are, you lot of chanting, ouzo-swilling, knee-breaking, gnome-stealing, chocolate-cake throwing, heart-attack having, fan-fic reading, pixel-loving, crazy-making... yeah. And Caber. Did you know I almost stopped writing altogether last year and you guys made me rethink that concept? So, do I blame you or fall at your feet in gratitude for the nagging, erhm, encouragement? Who knows?
And, may I also say a probably way-too-belated thankyou to my Muse, who I have browbeaten, ranted at, humiliated, made fun of, gotten in trouble with his mother and brothers, and all but kept in a state of constant alcoholism and chocolate-induced euphoria. With ice (but in my defence, those piercings weren't actually my fault, right, Kvasir and Rafe? Hm?). Yes, we have proven he is a bloke, but a good bloke he is, really, deep down, bless his sweet hunky bottom. Hmm. And I do, oh yes, I do. So, later, Kalleus. There will be a...reckoning. *nods*
Also, props to all of the Sims 2 CC makers out there; without you guys, photographing these particular stories with any sort of veracity would be virtually impossible. It would take me forever to credit all of the content makers whose stuff I use (15,000+ files), but favourite sites are:
Modthesims2 (favourite creators include Nouk, Lethe_s, Enayla, Alexasrosa, Hysterical Paroxysm--content and tutes, zoej, JBrehaut, pfish for invisible everythings at MTS2 @ SS2, tiggerypum, V1ND1CARE, feeEssen, iamliz13, Sussi, Cordophile, besen, the various makers of movie and story hacks, and of course Delphy, Numenor, Quaxi and Wes_h and others for the site itself, CEP, unimesh, SimPE, tutorials so I could make some of my own content...)
SS2, particularly Hunter, who is a genius, people.
Tarox4sims.de
Parsimonious.org (particularly Kate's stuff. The woman's brilliant)
Insimenator.net (merpeople, satyrs, the BB mesh, the Renaissance gal and the D-sized boobs. And thankyou, BBB, for sharing your purty textures with KSK for Crammyboy's hack.
)
All About Style
Retail Sims
Crammyboy
Rosesims free hand-held stuff
More Awesome Than You
Hysterical Paroxysm & Delphy for the sims2wiki @ MTS2
Other credits, particularly hacks I use a lot (eg, TwoJeff's Perfect Plants) are linked off my writing article at http://bethgael.blogspot.com
This is a one-shot story, as it will bump up against the ACTF Trilogy. I hope you enjoy it.
~*~*~*~*~*~*~*~*~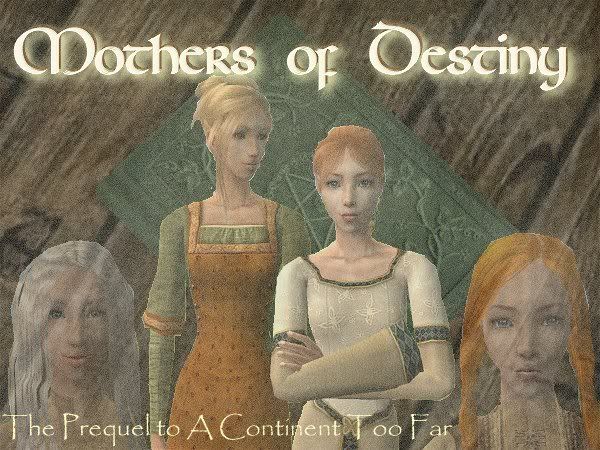 Chapter One
Chapter Two
Chapter Three
Chapter Four

Chapter Five
Chapter Six